The first book in the collection titled
Rapunzel In Control
is the title novella about students at Central High School in the Blue Ridge Mountains who fly big models of World War II airplanes. The pilots control their planes from cockpits on the ground.

The second book in this collection of five books is: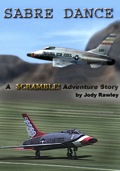 In
SABRE DANCE
, the second book in the collection, we visit another high school, Chaparral High School in New Mexico, and a new team of young pilots. They fly the "century series" jets from the 1950's and battle Russian planes from a rival school.
The lead character is a boy named Eusibio who flies an F-100 Super Sabre (the airplane on the book cover).
Eusibio and the Chaparral gang reunite in this adventure that takes them over the border into Mexico.
The featured airplanes are two of the rarest ever flown, the XB-70 and the XF-90.
Aerospace editor, Diego Rhodes edited this book on his ranch in Copper Canyon where the story is set.


SABRE DANCE
and
Airplane Down
were written right after SCRAMBLE!'s commercial release in 2008. PDF copies of these stories were downloadable for free in 2010 to promote education in Copper Canyon.
The books collected in the volume,
Rapunzel In Control
are definitely unique and in this collection
Tropic Teleflight
is a stand-out. Unlike the other books, set in high schools, this one is about adult RC airplane builders and fliers and a competition that pits city against city. The action covers the entire state of Florida. Some of the airplanes in the story are fanciful and some are unique yet plausible. (see the Wing In Ground Effect aircraft illustrated on the book's back cover).
This story offers a glimpse at what radio control aerial combat might look like at the NASCAR professional sport level.


Ornithopters feature prominently in the story and leading ornithopter inventor, engineer, and entrepreneur, Nathan Chronister wrote to say:

I just finished reading your story, Tropic Teleflight. Loved it! It is definitely packed full of action.
Your vision of what ornithopters can become (much like real birds, and maybe even exceeding their performance) is very much in line with my own vision and efforts. I have also dabbled in putting cameras on them and flying by looking at a video monitor. Reading your story has rekindled my interest in maybe setting up an ornithopter competition of some sort in the future.


Delve deeper into the wonderful world of ornithopters
http://www.ornithopter.org
Three friends (two girls and a boy in Charleston, South Carolina) fly helicopters (and a plane) by remote control through a cavern, an unexplored cave system under a mountain in Amazonia. They are in a race against time to return a biological sample and help battle a tropical retrovirus.