Our books are professionally edited, professionally formatted, and approved by a battery of readers before publication.



The Vicar of Church Hill
is a collection of fourteen Young Adult history mysteries, set in and around Richmond, Virginia. They are designed for close reading, analysis, and they help develop long form reading skills.

"An edge-of-your-seat mystery, a suspense thriller with real life places and happenings you may recognize…" Nikki Edwards, Patrick Henry High School newspaper

"…filled with adventure, excitement, and mystery. I looked forward to reading each story knowing that I would learn something new. The characters were real and some I hope to meet someday - particularly the Vicar. I really like the Vicar and his horse. Also, I really liked the fact that all the stories were set in and around Richmond. There is so much about Richmond I have yet to discover. Thank you again for these wonderful stories. Please keep writing." Vanessa Remmers (high school reader)

"I had trouble putting this down, which was a bad thing in Physics class. Oh well. The Vicar of Church Hill was a wonderful read. The plots were funny and varied; you never knew what Joe was going to face next … best part, however, was reading about places, like Broad Street and Monument Avenue I know like the back of my hand. It made the story so much more real. Should the Vicar ever feel the need to ride down to FarmVille, tell him to look me up." Cat Schlitz (high school reader)

"The reader can definitely include Richmond as a primary character." Elizabeth King Humphrey, Southern Scribe

"Very Richmond."

The original print edition (2002), physically held up well for a dozen years but the binding glue is becoming brittle and normal reader handling is too much for original copies. There are still print copies available, but we highly recommend the e-book edition. Collectors buy the print edition because it is unusual: published by a television production company, printed by a huge manufacturing company (which has since gone out of business).


CLICK HERE TO PURCHASE
THE VICAR OF CHURCH HILL
ON AMAZON.
Rapunzel in Control
is a collection of five stories, that teach aviation, history, and geography. "Teleflight" - piloting giant scale radio control airplanes from fully immersive cockpits on the ground - is carried to high art in these adventure stories. Classic World War II Warbirds, space age jets, ornithopters, and micro helicopters are all here for flying and aviation enthusiasts.

The title novella,
Rapunzel in Control
, is the novelized version of the movie
Scramble!
in which students at Central High School in the Blue Ridge mountains fly large scale models of World War II airplanes in competition against other school teams. Rapunzel leads Central to victory from inside her Air Traffic Control Tower. In
Sabre Dance
, Chaparral High School in New Mexico builds and flies the "century series" jets from the 1950s and battle Russian planes from a rival school. The lead character is a boy named Eusibio who pilots an F-100 Super Sabre. Eusibio and the Chaparral team reunite in the third adventure,
Airplane Down
, which takes them over the border into Mexico. The featured airplanes are two of the rarest ever flown, the XB-70 and the XF-90. Aerospace editor, Diego Rhodes edited this book on his ranch in Copper Canyon, Mexico where the story is set. While the first three stories in this collection are set in high schools,
Tropic Teleflight
pits adult hobbyists in city versus city competition. The action covers the entire state of Florida. Some of the airplanes in the story are fanciful, unique, yet plausible. This story offers a glimpse at what radio control aerial combat might look like at the NASCAR professional sport level. The fifth and final book of the collection is
The Caves of the Crystal Eyes
. Three friends, two girls and a boy in Charleston, South Carolina, fly helicopters and an airplane by remote control through a cavern, an unexplored cave system under a mountain in Amazonia. They are in a race against time to return a biological sample and help battle a tropical retrovirus.

Ornithopters feature prominently in the story, and leading ornithopter inventor, engineer, and entrepreneur, Nathan Chronister wrote to say: "I just finished reading your story, Tropic Teleflight. Loved it! It is definitely packed full of action. Your vision of what ornithopters can become (much like real birds, and maybe even exceeding their performance) is very much in line with my own vision and efforts. I have also dabbled in putting cameras on them and flying by looking at a video monitor. Reading your story has rekindled my interest in maybe setting up an ornithopter competition of some sort in the future." To delve deeper into the wonderful world of ornithopters, visit
The Ornithopter Zone
.


CLICK HERE TO PURCHASE
RAPUNZEL IN CONTROL
ON AMAZON.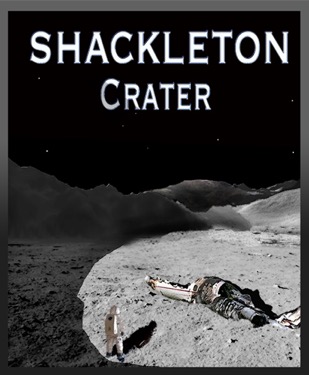 Shackleton Crater
teaches astronautics and history.

Set in the fourteenth year of a new century, the fate of an embattled earth is in the hands of men marooned at the South Pole . . . in Shackleton Crater. If you think this is a one-hundredth anniversary retelling of the famous 1914 British expedition to Antarctica you are correct. If you think you already know how this story goes and how it ends, you are off by a quarter of a million miles. This is a story of a shipwreck, deadly cold, eternal darkness, endurance, and survival. This is a stand-alone version of a novella that appears in the book,
A Slaughter of Ornithes
.
CLICK HERE TO PURCHASE
SHACKLETON CRATER
ON AMAZON.
Yucatan
teaches ecology, geology, and paleontology.

It is classic juvenile, time travel, science fiction, with a high-brow overlay - contemplations of the book of Genesis with inspiration from the Wizard of Oz. An idealist ecologist is thrown back 65 million years to save the earth from an impending cosmic collision. As a result, two worlds are destroyed, maybe three. The book is filled with dinosaurs and with facts gathered from the latest 2010 news releases. It will appeal to anyone interested in paleontology, the time travel dilemma, or vacationing in the tropics.


CLICK HERE TO PURCHASE
YUCATAN
ON AMAZON.
A Slaughter of Ornithes
is a collection of five unforgettable science fiction, horror stories, and includes the novella
Shackleton Crater
. The title story is set in Venezuela. Christian missionaries are rarely portrayed accurately in popular fiction but they are in this neat read. It is a survival story about politics, religion, nature, and human nature.
The Last Place On Earth
is structured rather like a poem, and with many hidden references it is a story enjoyed more each time it is read.
Sirens of Celebes
is a disturbing story that haunts readers, who usually figure it out later.
The Green Hell
is a black humor cautionary tale about yard work in the sunshine state.
Shackleton Crater
- the past is prologue on the Moon's South pole. Written in 2009 and set in 2014, this is hard science fiction at its best, and definitely not, as one reviewer classified it, "alternative history."


A Slaughter of Ornithes
was "a strong contender for title of the month honors" from The Book Designer.


CLICK HERE TO PURCHASE
A SLAUGHTER OF ORNITHES
ON AMAZON.

A dark, delicious comedy,
Burger Clown
is about corporate identity crisis. "A very quick, deep, and droll twenty-two pages." Two restaurant chain clowns accidentally arrive at the same grand opening and with corporate insuperable anonymity, decide to rob a bank. It is also the story of a struggle for the soul of the company owner's son. "Fast food black humor for those who can stomach it." A bad clown adventure that dishes out revenge, horror, and a demand for change. Corporate and government bureaucracies meet at the table and the result is self-serving farce followed by just desserts. "It's a little bit . . . uh, mixed with . . . Well, no, it's not like anything else. Except, maybe Bullwinkle." An industry professional who read the screenplay version of
Burger Clown
said, "It's the second funniest script I ever read. The first went on to become the movie
What About Bob?
" The author says, "This story was inspired by a real event. Lost in the legal annals of a South Western state's traffic court records is the case of two hamburger restaurant clowns (you would know the clown's hame) who crashed into each other. The police could not identify either clown as an individual and corporate lawyers defended the drivers as 'logos' not men. As I recall, all charges were dropped."


CLICK HERE TO PURCHASE
BURGER CLOWN
ON AMAZON.